Truman Joins His Predecessors in Raleigh, 1948
On October 19, 1948, President Harry S. Truman visited Raleigh and delivered the main address at the unveiling of the "Presidents North Carolina Gave the Nation" monument on Union Square, which surrounds the State Capitol.
The work honors the three presidents born in North Carolina: Andrew Jackson of Union County, seventh president of the United States (1829-1837); James Knox Polk of Mecklenburg County, eleventh president of the United States (1845-1849); and Andrew Johnson of Wake County, seventeenth president of the United States (1865-1869). Interestingly, while North Carolina claims all three presidents as native sons, all were elected while residents of Tennessee.
The idea for the statue was conceived by Commissioner of Revenue A. J. Maxwell. He took the idea to several legislators and a resolution calling for the monument's creation passed the General Assembly in March 1943, though work didn't get underway until a commission was created to complete the project in 1945.
Several sculptors submitted designs for the monument, but the commission ultimately chose New York sculptor Charles Keck for the project. It was one of Keck's last major works as an artist.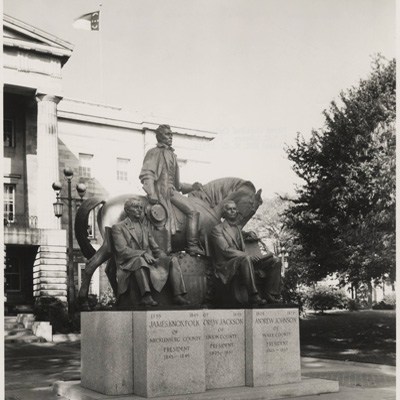 Governor R. Gregg Cherry, Secretary of the Army Kenneth Royall, U.S. senator and former governor Clyde Hoey and descendants of each of the three presidents joined Truman in dedicating the monument.
Visit: See the statue for yourself on the east side the State Capitol in Raleigh, and learn more about presidential history at the President James K. Polk Memorial in Pineville.
Other related resources:
For more about North Carolina's history, arts, nature and culture, visit DNCR online. To receive these updates automatically each day, make sure you subscribe by email using the box on the right, and follow us on Facebook and Twitter.