Central Prison Opens in Raleigh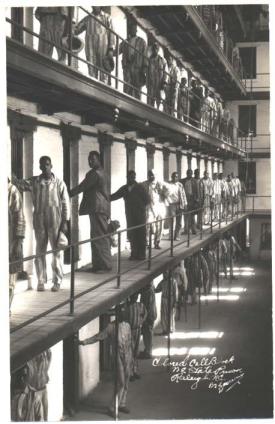 A postcard depicted the "Black Men's Cell Block" at Central Prison ca. 1900-1915. Image from the N.C. Museum of History
On January 6, 1870, Central Prison opened in Raleigh. The first three prisoners—one man and two women—had been convicted of robbery in Johnston County. Prior to the prison's opening, North Carolina did not have a central, state-operated prison and instead relied on the counties to manage inmates. Central Prison's construction was proposed as early as 1846, but did not begin until the adoption of the North Carolina Constitution of 1868 as part of Reconstruction.
A committee appointed by the General Assembly originally chose a tract in Chatham County for the prison, but the legislature opted for a site near downtown Raleigh. Prisoners were housed in temporary structures until the first permanent building was completed in 1884.
Though inmates accounted for most of the labor used to build 1884 structure, some outside help was brought in, perhaps most notably stone carver W.O. Wolfe, the father of novelist Thomas Wolfe.  The prison complex underwent extensive renovations in the 1940s, 1960s, 1970s and 1980s, and today is the intake site for all male felons over the age of 22 with sentences longer than 20 years.
Other related resources:
For more about North Carolina's history, arts and culture, visit Cultural Resources online. To receive these updates automatically each day subscribe by email using the box on the right and follow us on Facebook, Twitter and Pinterest.
This Day Categorization: