Birthday of State's Oldest Newspaper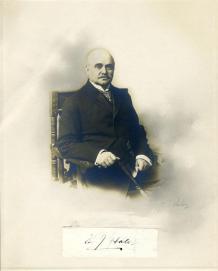 Edward Jones Hale, the Fayetteville Observer's first publisher. Image from the N.C. Museum of History
On January 13, 1825, the first issue of the Fayetteville Observer, the state's oldest newspaper still in print, was published by Edward Jones Hale.  The issue announced the visit of the Marquis de Lafayette to the nation's capital.  The newspaper actually dates back to 1816, when it was launched as a four-page weekly paper called the Carolina Observer under different ownership.
Hale was a strong political force and his influential paper had the largest circulation in the state by 1850. When General William T. Sherman entered Fayetteville in 1865, he ordered that the offices of the Observer, one of the principal Confederate newspapers, be burned. Hale had removed his important files prior to the fire, and when contacted about the destruction later, claimed that Sherman and his men "could not have paid him a higher compliment."
The Fayetteville Observer became a daily paper in 1896. It was operated by the Hale family until 1919. After a few other ownership changes, the paper was purchased by a New York businessman, who formed the Fayetteville Publishing Company. Charles Robert Wilson became the publisher of the paper in its new and modern quarters in 1924.
Other related resources:
For more about North Carolina's history, arts and culture, visit Cultural Resources online. To receive these updates automatically each day subscribe by email using the box on the right and follow us on Facebook, Twitter and Pinterest.