"The Fire is Spreading:" A Landmark Revival in Dunn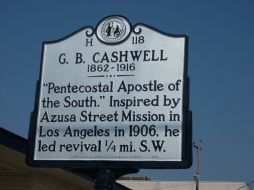 On December 31, 1906, Holiness preacher Gaston Barnabas Cashwell opened a revival in a tobacco warehouse in the Harnett County town of Dunn.
He had just returned from the Azusa Street Mission in Los Angeles where a similar revival had roused the faithful. There, and in Dunn, people in search of salvation assembled. A church leader later wrote that charismatic churchgoers traveled to Dunn and "were soon happy in the experience, speaking in tongues, singing in tongues, writing in tongues, shouting, leaping, dancing, and praising God."
Cashwell wrote to the organizer of the California revival that people "from all over the country" attended the Dunn revival and that "many have come from South Carolina and Georgia and have received their Pentecost and gone back . . . the fire is spreading."
Cashwell became the informal leader of the Pentecostal movement in the Southeast, and the Dunn revival has been hailed for it place in Holiness history. Several movements adopted Cashwell's Azusa Street message. Cashwell's revival in Dunn challenged the region's Holiness churches to redefine their theological doctrines, uniting many of them in Pentecostalism.
For more about North Carolina's history, arts and culture, visit Cultural Resources online. To receive these updates automatically each day subscribe by email using the box on the right and follow us on Facebook, Twitter and Pinterest.