Malcolm McLean, Containerization Innovator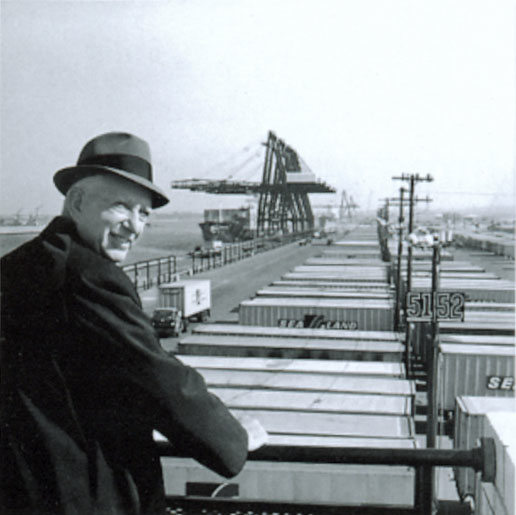 On April 26, 1956, at the port of Newark, New Jersey, Malcolm McLean watched as a giant crane swung his newly invented shipping containers onto a ship. As the ship steamed off toward Houston, Texas, the era of container shipping had begun.
Born in 1914 in Robeson County, McLean rose from humble roots to build a business empire. He began by driving a truck as a teenager and owned one of America's largest transportation companies by the time he was in his mid-30s.
He had the idea for a shipping container as early as 1937, when he was still driving his own truck. He had been sitting for a whole day at a New Jersey port waiting for workers to unload his truck and put the goods on a ship, and wondered why there wasn't a truck-trailer that could be lifted onto a ship or onto railroad wheels without anyone touching the contents.
The success of his 1956 endeavor lead to a company called SeaLand, now a part of Maersk. By the mid-1960s, McLean's SeaLand had built container-handling facilities in many U.S. ports and, after the company's technology was used by the government during the Vietnam War, it spread throughout the world.
He died in 2001 in New York City.
Other related resources:
For more about North Carolina's history, arts and culture, visit Cultural Resources online. To receive these updates automatically each day subscribe by email using the box on the right and follow us on Facebook, Twitter and Pinterest.