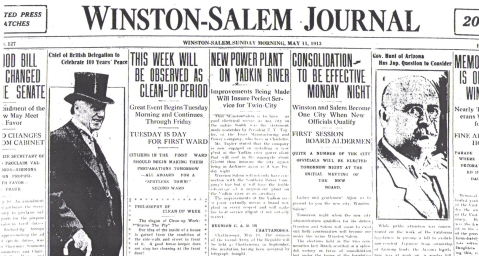 On May 13, 1913, the town of Salem and the city of Winston merged to form the new city of Winston-Salem through the election of a new unified city board.
The two municipalities that would eventually become Winston-Salem came from two strikingly different backgrounds. The town of Salem traced its lineage back to 1753, when it was established by Moravian Bishop August Spangenberg. Winston, named for Joseph Winston, was created in 1849 as the county seat for newly formed Forsyth County.
In 1879, the two towns attempted to unite through legislation passed by the General Assembly, but the use of the name of "Salem" as the city's new name forced the citizens of Winston to withdraw  their support. In years following this first attempt at unification, the local post office was renamed "Winston-Salem" to reflect the closeness of the two communities.
In 1913, a second effort was made to unite the two communities through legislation and another referendum was taken to the voters of both municipalities. This second attempt proved successful, and Winston-Salem was formed in May of that year.
For more about North Carolina's history, arts and culture, visit Cultural Resources online. To receive these updates automatically each day subscribe by email using the box on the right and follow us on Facebook, Twitter and Pinterest.