Revelry Ensues After Stanley Cup Victory, 2006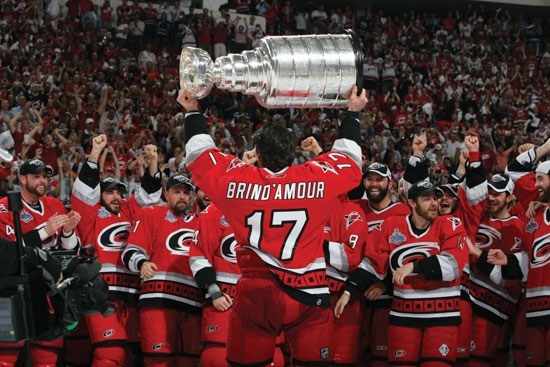 On June 19, 2006, the Carolina Hurricanes won their first ever National Hockey League championship. The Stanley Cup win came after the Canes defeated the Edmonton Oilers 3-1 in front of a sold out crowd in the last game of a seven-game series.
In addition to the team win, 22-year-old rookie goaltender Cam Ward was recognized with the Conn Smythe Award, given to the most valuable player in the playoffs, for his stellar performance in relief of veteran netminder Martin Gerber.
The win kicked off two days of celebration in Raleigh with Gov. Mike Easley declaring June 20 "Carolina Hurricanes Day" and urging North Carolinians to wear the Hurricanes colors of red and black in support of the team. A victory parade held at the RBC Center, now the PNC Arena, drew 30,000 fans and was covered live by WRAL for viewers at home.
A second parade was held in downtown Raleigh the next day, ending with a celebration at the State Capitol. Even the General Assembly paid homage to the victors, holding a special joint session where legislators greeted head coach Peter Laviolette, Hurricanes players and the Stanley Cup with enthusiastic applause.
The Hurricanes' 2006 Stanley Cup win was North Carolina's first professional men's sports championship.
For more about North Carolina's history, arts and culture, visit Cultural Resources online. To receive these updates automatically each day, make sure you subscribe by email using the box on the right, and follow us on Facebook, Twitter and Pinterest.