Hiwassee Dam, Five Years in the Making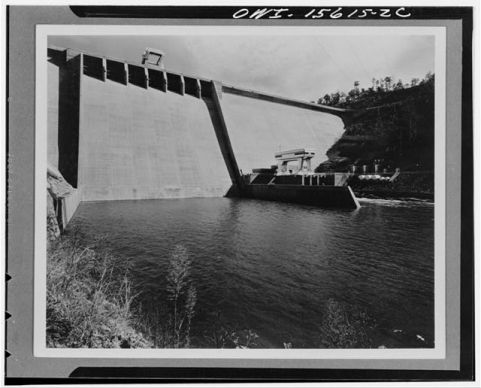 On May 21, 1940, the Hiwassee Dam in Cherokee County generated power for the first time. The dam was built by the Tennessee Valley Authority and was one of the largest construction projects in the state at that time.
The Tennessee Valley Authority was one facet of the sprawling New Deal plan created by President Franklin D. Roosevelt. The goal of the TVA was to bring electricity, economic development and flood control to the Southern Appalachian region and, to achieve those aims, it recommend building dams and reservoirs along the Tennessee River and its main tributaries. The Hiwassee and the Fontana Dams were the two built in western North Carolina as part of that effort.
Work on the Hiwassee project began in July 1936, and it took a crew of 1,600 men nearly four years to complete. The building of the dam and reservoir led to the creation of Hiwassee Lake which is still used today for recreation.
At the time of construction the overspill dam was the nation's tallest at 307 feet. The final cost of construction came in at $16.8 million, which would be about $282 million if built today.
For more about North Carolina's history, arts and culture, visit Cultural Resources online. To receive these updates automatically each day, subscribe by email using the box on the right and follow us on Facebook, Twitter and Pinterest.