Bechtlers Advertise Their Coins, 1831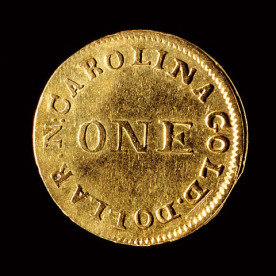 On July 2, 1831, an advertisement appeared promoting gold coins minted by the Bechtlers in Rutherford County.
From about 1803 until California's gold strikes of 1848, North Carolina led the nation in gold production. Gold was a key industry in the state, and about 50 mines were operating in the western part of the state by the 1830s.
Christopher Bechtler, his son Augustus, and a nephew, also Christopher Bechtler, moved to North Carolina in 1830. The elder Bechtler first opened a jewelry shop in Rutherfordton but soon saw that the lack of currency in western North Carolina was stifling the regional economy.
Experienced metalworkers, the Bechtlers built a press, and soon were striking $2.50 (quarter-eagle) and $5 (half-eagle) coins north of Rutherfordton on Hollands Creek. The following year they began to strike gold $1 coins. Private mints met with mixed success, based on the quality of the product that they generated and on the public's perception of the purity of the gold.
The elder Christopher Bechtler died in 1842 but the mine continued to operate. The younger Christopher Bechtler moved the minting business into Rutherfordton soon after.
The Bechtler Mint ceased operations around 1849, after having struck about $2.25 million in coins.
For more about North Carolina's history, arts and culture, visit Cultural Resources online. To receive these updates automatically each day, make sure you subscribe by email using the box on the right, and follow us on Facebook, Twitter and Pinterest.