Sensational 1890s Murder in Winston-Salem
On July 20, 1892, Ellen Smith was fatally shot by Peter DeGraff near the Zinzendorf Hotel in Winston-Salem. The murder became the subject of a popular turn-of-the-century ballad, "Poor Ellen Smith."
The maid in the home of a Winston-Salem merchant, Smith became pregnant while romantically involved with DeGraff, a local ladies' man and ne'er-do-well. The child was stillborn or died after birth during a visit to Smith's family in Yadkin County. On that visit, Smith was allegedly accompanied by DeGraff, who denied that the child was his.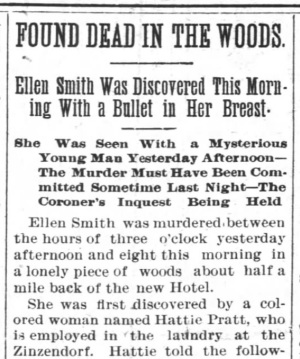 DeGraff subsequently broke off the relationship and threatened to shoot Smith if she attempted to contact him again. On July 17, the two had a major quarrel at the home of Smith's employer. Tensions cooled the next day and DeGraff sent a note Smith telling her that he loved her and asking to see her on evening of the 20th. Smith's body was found the next morning when individuals were directed to the site by a man who was apparently DeGraff himself.
DeGraff soon fled and lived under an assumed name in Mt. Airy, but returned in June 1893 and was arrested. At the trial, the accumulated evidence pointed convincingly towards DeGraff, who pled innocence, as the killer.
Convicted, DeGraff's execution was held in 1894. He confessed to the murder in front of the large crowd of onlookers right before he was executed.
For more about North Carolina's history, arts and culture, visit Cultural Resources online. To receive these updates automatically each day, subscribe by email using the box on the right and follow us on Facebook, Twitter and Pinterest.