Springs Altered Race History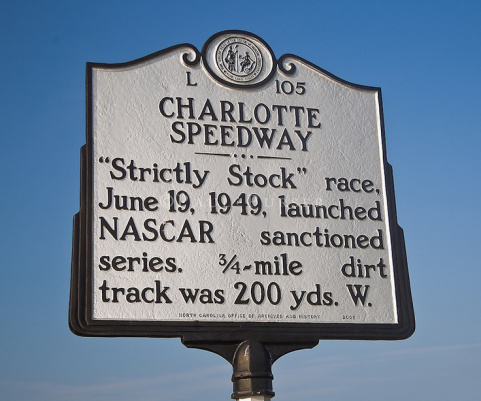 On June 19, 1949, NASCAR held the first race in its top division at a ¾-mile dirt track at the Charlotte Speedway.
Promoter Bill France intended that the race provide a test of driving skill in cars similar to those actually driven by fans. The crowd of more than 13,000 confirmed France's conviction that people would flock to see late-model sedans race.
Glenn Dunnaway finished first; however, the victory did not stand. Officials conducting a post-race inspection found altered rear springs, disqualified Dunnaway and declared second-place finisher Jim Roper the winner. It was later revealed that the springs had been modified in a manner common to cars that were used to haul moonshine.
The success of the race led France to promote seven more "Strictly Stock" races that year, forming the foundation for what would become NASCAR. The original Charlotte Speedway would continue to be an important stop for the tour until construction of the larger, new track near Concord in 1960.
Today nothing remains of that old track. Interstate 85 sits atop one of its banks, though a highway historical marker on Little Rock Road marks the place.
Other related resources:
For more about North Carolina's history, arts, nature and culture, visit DNCR online. To receive these updates automatically each day, make sure you subscribe by email using the box on the right, and follow us on Facebook and Twitter.