Off the Beaten Path: Salamanders & Wildflowers
The reminder email said be prepared for cold weather. The morning of the hike I was layered like a cake. Thermals, long sleeves, sweater, hat, gloves... I could barely move. I was prepared to venture out with a dozen other hikers with NC Museum of Natural Sciences. The hike was being led by Jerry Reynolds, Head of Outreach. The destination was Swift Creek Bluffs, a small nature preserve owned by the Triangle Land Conservancy. This was my first time visitng Swift Creek Bluffs and with a little research I discovered one of the highlights of the preserve was the trees, it was described as having...
massive beech trees dating back to the days of James Madison clinging to the 100-foot bluffs rising abruptly from Swift Creek. The beech trees are all the more impressive squeezed as they are onto a three-quarter-mile-long preserve...
While the beech trees were very impressive we were there to see salamanders and wildflowers. As you enter the perserve you are greeted with a blanket of wildflowers! We saw trout lilies, mayapple, gernaiums and bloodroot to name a few. Just five miles from downtown Cary, this natural area is a remarkable remnant of historical Piedmont forests. Although this forest has been selectively logged at least once in the past 75-100 years, the age and size of its trees and its diverse plant life make it reminiscent of the hardwood forests that dominated the Piedmont prior to European settlement.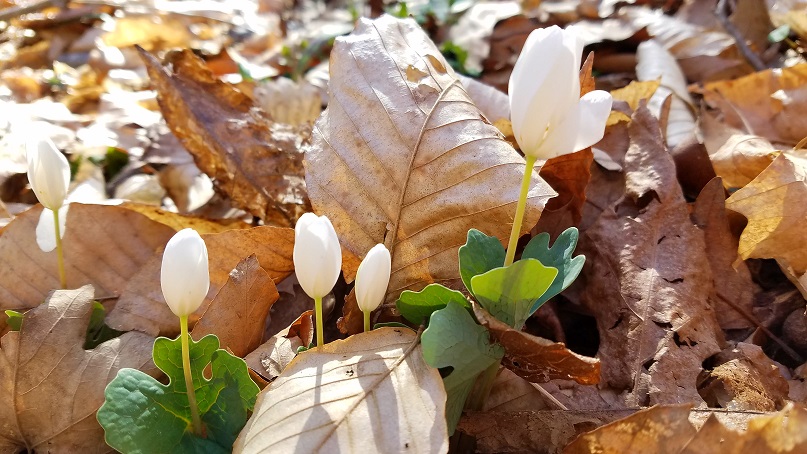 The next highlight of the hike was the amphibians. In the transition from winter to spring, vernal pools collect at the base of the bluffs, offering ideal breeding grounds for spring peepers, upland chorus frogs, and salamanders. I was unsure if we would see any salamanders since the temperatures had been on the low side. I can't begin to describe my elation when Jerry flipped over a log and there were two salamanders! 
We were looking at a red-backed and marbled salamander. Red-backed salamanders are found in the mountains of northwestern North Carolina, in a small area of the central Piedmont, and in much of the Coastal Plain.  According to Amphibians & Reptiles of North Carolina, red-backed salamanders are often extremely abundant, and surface active individuals make up only a small part of the population. At any given time, the vast majority of red-backed salamanders are underground.
Marbled salamanders are more common in North Carolina. I learned that the females guards their eggs in a nest under a log, leaf litter or other debris until the area fills with water and the larvae emerge from their eggs. This is different than spotted salamander, which breed in shallow freshwater pools. While we did not see a spotted salamander we did find an egg mass! Egg masses can contain up to 250 eggs and are attached to sticks or grass in shallow water. 
Swift Creek Bluffs Nature Preserve did not disappoint. We continued to see blooming wildflowers, we made it to the top of the bluffs for a scenic view of Swift Creek, and even measured the circumference of one of the "massive beech trees." I highly recommend visiting this little nature preserve nestled away in Wake County, and if it's a cold blustery day in March wear lots of layers. 
Additional Resources: