Profiles from the Archives: Leonidas P. Denmark
Leonidas Polk Denmark (who went by "Polk") was born on December 2, 1892, in Raleigh, North Carolina, to James William and Juanita Polk Denmark. Leonidas Denmark grew up in Raleigh, attending Raleigh public schools. He graduated from North Carolina State College of Agriculture and Engineering (modern-day North Carolina State University) with a degree in civil engineering in 1915. Denmark went to work for the Electric Bond and Share Company, serving as the chief draftsman on topographic survey of the Yadkin River. He left his job to enlist in May 1917 for military service in World War I at the age of 24.
Denmark was commissioned as a second lieutenant in the U.S. Engineers Reserves in August 1917 at the American University in Washington, D.C. He would be assigned to the 105th Engineer Regiment at Camp Sevier in Greenville, South Carolina. Denmark was sent to seven different training camps before he was called for duty overseas in July 1918. He went on to volunteer for the U.S. Army Air Service, and attended aeronautical training at Post Field on Fort Sill, Oklahoma, in January 1918.
After receiving his wings, Leonidas Denmark entered Aerial Gunnery School at Selfridge Field in Harrison Township, Michigan. He would sail for service overseas in Europe in July 1918, arriving in France. Denmark would serve as an instructor for seven months in aerial observation at the 2nd Aviation Instruction Center in Tours, France. He served overseas in WWI until January 31, 1919, and was honorably discharged on February 5, 1919.
While being stationed either in Texas or New Jersey, Denmark met a Miss Lorena Patterson, and the two began corresponding as war-time pen pals. Denmark opened up to Patterson about his thoughts of the war and military training, his personal life, and expectations for the future after the war would end. After the war, Denmark and Patterson continued writing each other, though it would tail off through the 1920s and 1930s. The two continued to update each on developments in their lives during this period.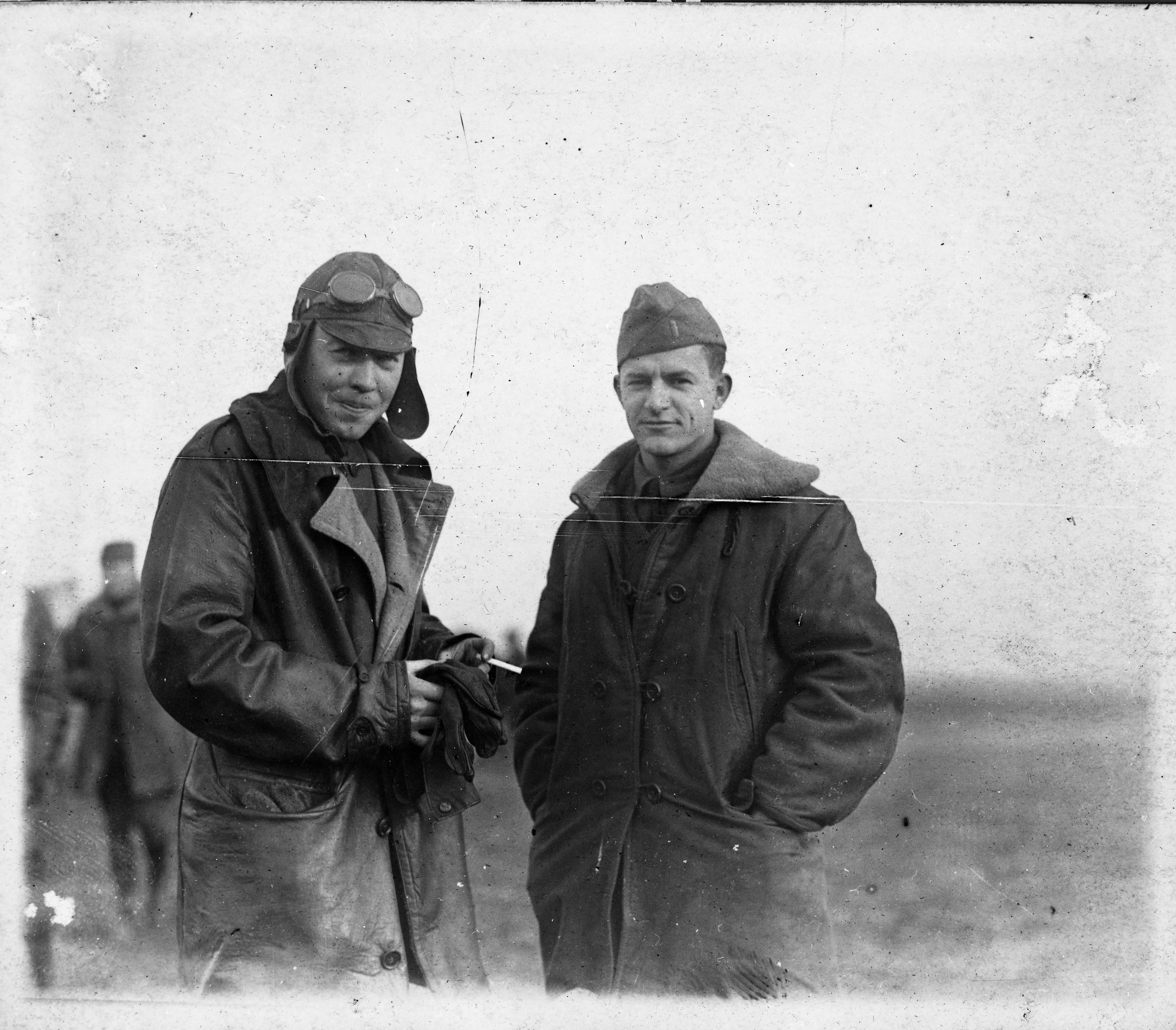 When he was discharged, Leonidas Denmark returned home to Raleigh, North Carolina. According to his papers, Denmark had a difficult time adjusting to civilian life. He eventually took a position as an engineer for the North Carolina Highway Commission in the Roadway Department. In 1922, Denmark left the Highway Commission to serve as a land grant clerk in the office of the North Carolina Secretary of State, remaining in this position for five years. In 1923, Leonidas Denmark married Anne Burt Stainback.
In 1925, Denmark was called again for active duty in the U.S. Army Air Service Reserves. He was made an Acting Executive Officer of the 81st Division Air Corps at Chattanooga, Tennessee where he trained potential aviators and observers. In 1928, Denmark was transferred from the Air Service Reserves to the Officers' Reserve Corps. Denmark was an active member in veteran affairs after the war, such as attending memorials and social groups, like the Association of the 105th Engineers in Chapel Hill, North Carolina. In 1939 he applied, unsuccessfully, for War Veteran's Disability.
From 1931 to 1937, Denmark worked as the Alumni Secretary at North Carolina State University. He returned to the North Carolina Highway Department in 1937 as the Chief Draftsman and Cartographer. In 1960, Denmark retired and spent his free time on doing genealogical research at the State Archives of North Carolina in Raleigh, North Carolina. In the summer of 1964, he became ill. Leonidas P. Denmark died on September 30, 1964, and was buried in Oakwood Cemetery in Raleigh.
To learn more about Leonidas Denmark's WWI service, check out his collection Leonidas P. Denmark (WWI 35) held in the WWI Papers of the Military Collection at the State Archives of North Carolina in Raleigh, N.C. The State Archives also holds another collection of his wartime correspondence in the Private Collections.
This blog post is part of the State Archives of North Carolina's World War I Social Media Project, an effort to bring original WWI archival materials to the public through the North Carolina Department of Natural and Cultural Resources' (NCDNCR) various social media platforms, in order to increase access to the items during the WWI centennial celebration by the state of North Carolina.
Between February 2017 and June 2019, the State Archives of North Carolina will be posting blog articles, Facebook posts, and Twitter posts, featuring WWI archival materials which are posted on the exact 100th anniversary of their creation during the war. Blog posts will feature interpretations of the content of WWI documents, photographs, diary entries, posters, and other records, including scans of the original archival materials, held by the State Archives of North Carolina, and will be featured in NCDNCR's WWI centennial blog.