Profiles from the Archives: Alfonso L. Mauney
Alfonso Leonhardt Mauney was born on May 25, 1896, in Gaston County, N.C., to Noah Lee and Belle A. Barnhill Mauney. By 1900, Alfonso's father was working as a farmer in the town of Cherryville in Gaston County on his father-in-law's farm. By 1910, the Mauney family was living on their own farm in Cherryville. At the time of his draft registration for World War I, Alfonso Mauney was living in the town of Crouse, N.C., and working as a laborer.
Alfonso L. Mauney was inducted into military service for World War I on September 5, 1918, in Gaston County. Serving in the U.S. Army, Mauney was sent for basic training to Camp Humphreys, Virginia, and assigned to 3rd Company, 1st Recruit Battalion, 7th Engineer Training Regiment. On October 4, 1918, he was transferred to Company C, 8th Engineer Training Regiment, and held the rank of Private.
On October 7, 1918, Alfonso L. Mauney died of bronchopneumonia at the Camp Humphreys Base Hospital, one of many U.S. servicemen's deaths due to illness in WWI. At the time of his death, Alfonso's father was notified, and Alfonso Mauney was buried in Saint Johns Lutheran Church Cemetery in Cherryville, N.C.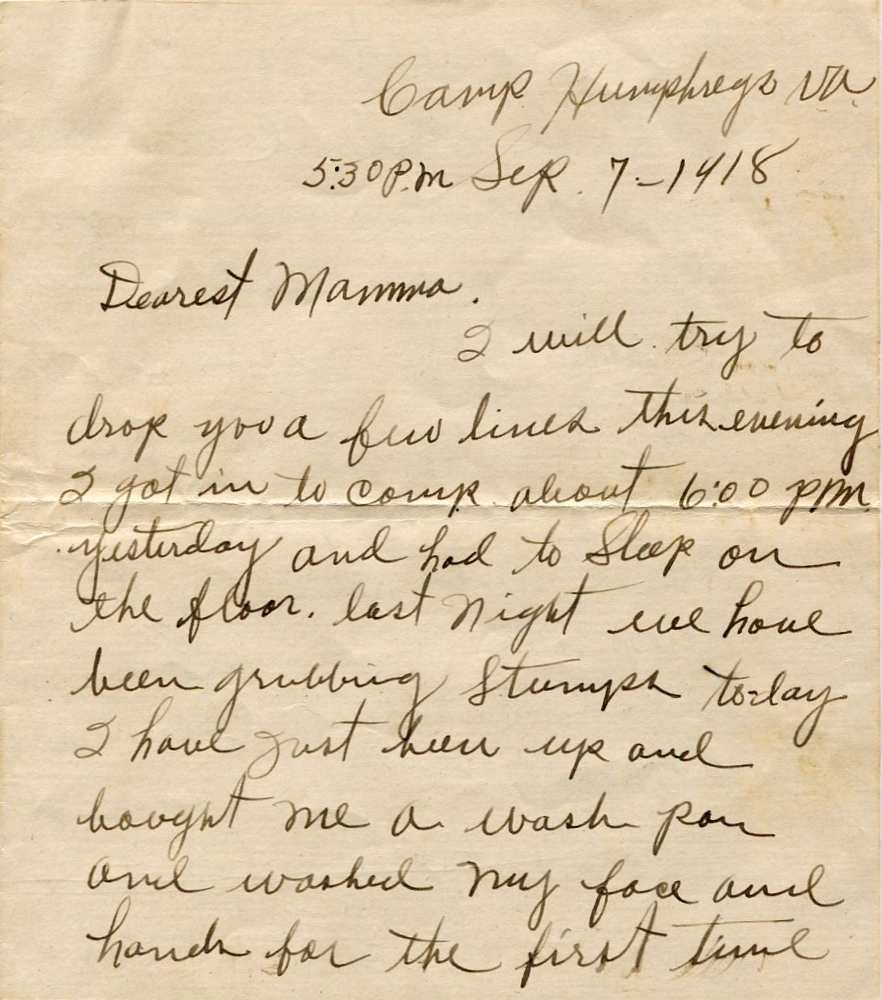 To learn more about Alfonso Mauney's WWI service, you can read his only-known letter in the collection Alfonso L. Mauney Letter (WWI 56) held in the WWI Papers of the Military Collection at the State Archives of North Carolina in Raleigh, N.C.
This blog post is part of the State Archives of North Carolina's World War I Social Media Project, an effort to bring original WWI archival materials to the public through the North Carolina Department of Natural and Cultural Resources' (NCDNCR) various social media platforms, in order to increase access to the items during the WWI centennial celebration by the state of North Carolina.
Between February 2017 and June 2019, the State Archives of North Carolina will be posting blog articles, Facebook posts, and Twitter posts, featuring WWI archival materials which are posted on the exact 100th anniversary of their creation during the war. Blog posts will feature interpretations of the content of WWI documents, photographs, diary entries, posters, and other records, including scans of the original archival materials, held by the State Archives of North Carolina, and will be featured in NCDNCR's WWI centennial blog.