"Bull Durham" Premiered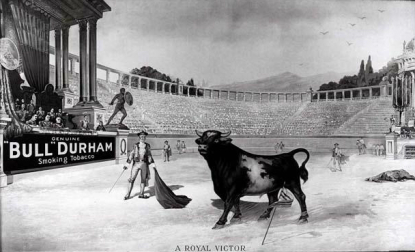 On June 15, 1988, Bull Durham premiered. The film, starring Kevin Costner, Susan Sarandon and Tim Robbins, was a blockbuster hit, grossing more than $50 million in North America alone. Sports Illustrated put it at the top of its list of the greatest sports movies of all time.
The film centers around the Bulls, Durham's minor league baseball team. "Crash" Davis—played by Costner— is brought in to help prepare "Nuke" LaLoosh—played by Robbins—for the Major Leagues. Baseball groupie Annie Savoy—played by Sarandon—initially becomes involved with Nuke, but finds herself increasingly attracted to Crash.
The phrase "Bull Durham" has its origins in the post-Civil War era. Durham tobacco industrialist John R. Green based his tobacco advertising on a popular brand of mustard made in Durham, England, that featured the head of a Durham bull on its label. The tobacco was widely advertised and became one of the most recognized American products of the late 1800s and early 1900s.
Bull Durham brought national attention to both the famous tobacco name and the Durham Bulls.
Read more in the Bull Durham Tobacco, Durham and Baseball articles on NCpedia.
For more about North Carolina's history, arts and culture, visit Cultural Resources online. To receive these updates automatically each day, make sure you subscribe by email using the box on the right, and follow us on Facebook, Twitter and Pinterest.