Stoneman in Salisbury, Liberator and Scourge
On April 12, 1865, Union Gen. George Stoneman and his forces burned the already abandoned Salisbury Prison, as well as the town's other public buildings, industrial structures and supply depots as part of raid through western North Carolina.
The raid began on March 24 when Stoneman led 6,000 cavalrymen from Tennessee into western North Carolina and southwestern Virginia to disrupt Confederate supply lines by destroying sections of the Virginia & Tennessee Railroad, the North Carolina Railroad and the Piedmont Railroad. He also sought to liberate Union prisoners-of-war held in Salisbury, cut off avenues of retreat available to Confederate armies and encourage Unionists in western and central North Carolina to rise up.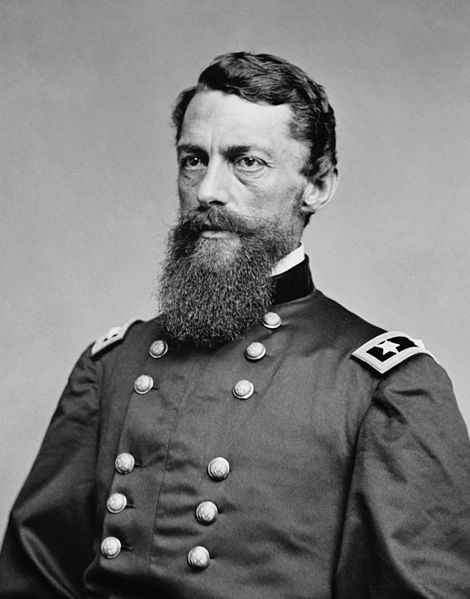 Stoneman struck Boone on March 28, then divided his force and sent part of it into Virginia. On April 12, the Federals occupied Salisbury. Stoneman moved west the next day, dividing his command again. Other than a fight at Swannanoa Gap, Stoneman and his cavalrymen encountered only bushwhackers and isolated groups of Confederate soldiers.
Stoneman's forces approached Asheville on April 23, negotiated a truce and then rode through the streets on April 26. Two days later, part of Stoneman's force returned to Asheville to loot. Other elements either continued to Tennessee or joined the pursuit of Confederate President Jefferson Davis into Georgia.
Other related resources:
For more about North Carolina's history, arts and culture, visit Cultural Resources online. To receive these updates automatically each day subscribe by email using the box on the right and follow us on Facebook, Twitter and Pinterest.
This Day Categorization: