R. Stanhope Pullen, Philanthropist and Benefactor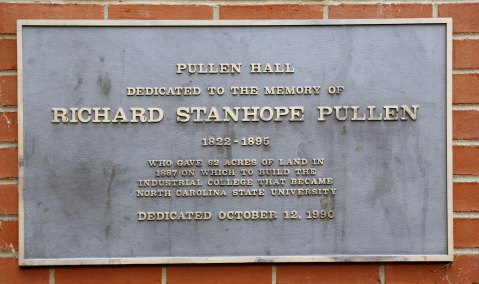 On June 23, 1895, Raleigh's R. Stanhope Pullen, an astute capitalist who conducted business on his own terms, died. Pullen was widely known for the generous gifts he gave to North Carolina.
Born in the Wake County community of Neuse in 1822, Pullen moved to Raleigh in 1852. There he managed the finances of his widowed aunt Penelope Smith. Upon her death, Smith made Pullen her principal heir and his investments in real estate made him a wealthy man.
In 1872, then-closed Peace Institute (now William Peace University) was mortgaged to Pullen. He organized a new charter and offered most of the stock to the Presbyterians. As a member of Edenton Street Methodist Church, Pullen was the largest donor of money that paid for a new church structure.
In 1887, Pullen donated 80 acres to Raleigh for a park, now named Pullen Park in his honor. In that same year, he made a gift of land next to the park for the North Carolina College of Agricultural and Mechanic Arts (now North Carolina State University.)
R. T. Gray and Pullen also donated the original 10 acres for the Normal and Industrial School in Greensboro (now the University of North Carolina at Greensboro).
For more about North Carolina's history, arts, nature and culture, visit DNCR online. To receive these updates automatically each day, make sure you subscribe by email using the box on the right, and follow us on Facebook and Twitter.