On October 10, 1902, the Palmer Memorial Institute, a preparatory school for African-Americans, opened in Sedalia. Founded by scholar Dr. Charlotte Hawkins Brown, the school was dedicated to providing educational opportunities for blacks in rural North Carolina.
In its early years the school's curriculum focused on the industrial and domestic sciences and included grades ranging from elementary to high school. Once the first public school for African-American students opened in Sedalia, Palmer closed its elementary program and evolved into a college preparatory school. To compensate for the loss of local students to the public school, it began recruiting top students from out-of-state.  In addition to providing a stellar academic curriculum, PMI also emphasized the importance of proper etiquette and training in the arts.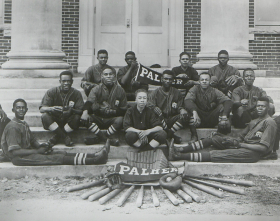 The school, which educated more than 2,000 students during its history, was forced to close its doors in 1971. In 1987, after much campaigning by Dr. Brown's family, friends and former students, the state of North Carolina bought the campus and created the Charlotte Hawkins Brown Memorial State Historic Site.
Other related resources:
For more about North Carolina's history, arts and culture, visit Cultural Resources online. To receive these updates automatically each day subscribe by email using the box on the right and follow us on Facebook, Twitter and Pinterest.