Kingston Trio Hits the Top of the Charts with "Tom Dooley" in 1958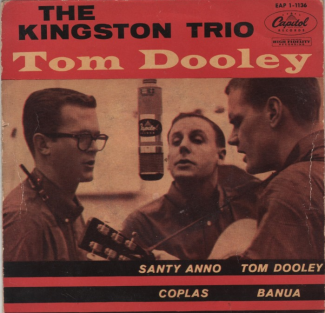 On November 19, 1958, the Kingston Trio's version of the folk song "Tom Dooley" hit number one on the music charts. The song is based on the true story of Tom Dula, hanged in Statesville in 1868 for the murder of Laura Foster.
The case drew wide attention, including a series of reports that appeared in the New York Herald. After being hanged, Dula was buried in a family cemetery in Wilkes County. Many in the community to this day defend him, arguing that he took the fall for a woman named Ann Melton. North Carolina guitarist Doc Watson's grandmother claimed to have heard Melton's deathbed confession that she, not Tom Dula, killed Laura Foster.
https://soundcloud.com/etc-tet/tom-dooley-1955-warped
While Watson sang the traditional folk ballad "Tom Dula," the best-known version of that song was a bestseller for the Kingston Trio, renamed "Tom Dooley." Members of the group actually visited Dula's grave on a concert swing through the state.
Other related resources:
For more about North Carolina's history, arts and culture, visit Cultural Resources online. To receive these updates automatically each day, make sure you subscribe by email using the box on the right, and follow us on Facebook, Twitter and Pinterest.